I wrote the book TWINS TRIVIA in 1997 and the book was published in the spring of 1998 with a lot of wonderful help from Robert B. Pile. I wrote the book so that everyone can be reminded of the rich history of the Minnesota Twins and the many interesting players that have played here and worn a Minnesota Twins uniform.
The book is 135 pages long and has 510 Twins trivia questions and answers. Some are easy, others are harder but all will bring back fond memories of Twins history and maybe even some personal memories that you saw at old Met stadium or at the Metrodome. Is that where you saw your first big league ball game? My first MLB game was the 1965 All-Star game at Met stadium, how is that for an introduction to America's pastime? In addition, the book has some great old black and white pictures of a number of former players as well as both stadiums that the Twins have called home.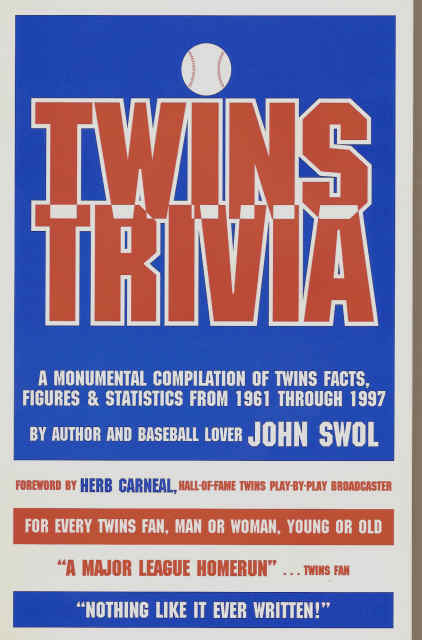 TWINS TRIVIA is available by mail and normally sells for $9.95 plus shipping from Amazon.com. However; if you drop me a note and tell me that you saw this book on this website, I will sell it to you directly and avoid the middleman for just $6.95 plus $2.50 shipping. Send your check for $9.45 to:
Twins Trivia Box 754 Wayzata, MN  55391
…………………………………………………………………………………………………………………………………
UPDATE AS OF OCTOBER 2013 – The book will no longer be available via Amazon.com and is only available thru this site. Thank you!