Fan voting for the Twins Hall of Fame class of 2012 is now open and will remain open through midnight on January 4, 2012. The 2012 ballot has 18 former players. After the voting deadline has passed, votes will be counted and the top vote-getter with at least 50% of the ballot will be elected and honored during the 2012 season. If a second candidate receives 75% of the vote, there will be two candidates who will receive membership in the Twins Hall of Fame. Started back in 2000, the Twins Hall of Fame currently has 23 inductees that you can see on the "Twins Hall of Fame" page on this site. I would urge you to stop over at http://minnesota.twins.mlb.com/min/fan_forum/hof_ballot.jsp and vote for the player or players that you think are worthy to admission into the Twins Hall of Fame.
I am lucky enough to have seen all of these players play in a Twins uniforms and that makes it a bit easier I think for me to vote than for some of the younger voters who can only go by statistics and what they have heard and read about the player(s) in question. Voting is conducted by a 54-member committee, which includes local and national baseball writers, Twins broadcasters, Twins Hall of Fame members, local TV and Radio members, select Twins front office personnel and the fans so I am not sure exactly how much say the fans really have in this vote. Sure it is a popularity thing, much like the All-Star game voting in that respect but still it is fun for the fans to vote and have their say in who deserves the honor of being a Twins Hall of Fame member.
I vote every year and this year my votes go to:
1. Camilo "Little Potato" Pascual a right-handed pitcher who pitched for the Senators/Twins franchise from 1954-1966. Pascual was known for having the best curveball in his era and in his 13 seasons with the franchise he posted a 145-141 record for a team that was often closer to the cellar than the penthouse.  Camilo finished what he started and he led the AL in complete games in 1959, 1962 and 1963. He led the AL in strikeout for three consecutive seasons from 1961 to 1963 and he won 20 or more games in both 1962 and 1963. Camilo Pascual who I think has been a forgotten man by the Twins to this point is 77 now and no one deserves to be in the Twins Hall of Fame more than he does. It is a disgrace that this great pitcher has been left out of the Twins Hall of Fame for so long.
2. Allan "Red" Worthington was a right-handed reliever for the Twins from 1964-1969 and a strong case can be made that Al Worthington was the Twins first great closer. The man put up amazing numbers back when closers role did not really exist and relief pitchers pitched several innings at a crack. Look at these numbers and tell me how we would look at a closer today that put up numbers like this. In Worthington's 6 seasons in Minnesota he was 37-31 with an ERA of 2.62 and a WHIP of 1.19 while having a 7.6  SO/9 ratio. Al Worthington, now 82, deserves your vote.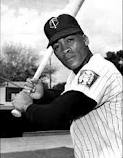 3. Cesar "Pepe" Tovar passed away at the age of 54 in 1994 and is no longer with us but memories of this wonderful little player are still with me. Tovar played for the Twins in a number of roles for 8 seasons from 1965-1972 after being acquired in a trade from Cincinnati. Pepe could play anywhere, as a matter of fact he played all nine positions in a game for the Twins back on September 22, 1968 and Tovar remains the only Twins position player to start a game on the pitcher's mound. The 5'9″ 155 pound right-handed hitting Tovar spent most of his time in the outfield but he also played 3B, 2B, and Shortstop. 1970 was probably his best year and that year he played in 161 games, had 726 plate appearances, scored 120 runs, led the league in doubles (36) and triples (13), while hitting 10 home runs and knocking in 54 more to go with his .300 batting average. That doesn't even count his 30 stolen bases.
One player I will probably never vote for the Twins Hall of Fame is former 2B and 1991 AL Rookie of the Year Chuck Knoblauch. Don't get me wrong, Knoblauch was a great player but his attitude stunk, his me first thinking, and his relationship with the fans left a lot to be desired so Knobby will not be getting a vote for the Twins Hall of Fame in the near future.
So PLEASE, get out there and vote!