May 30, 2010 – Friday, May 28 was kind of an odd day in baseball in the fact that two different games had non-pitchers pitching, utility player Bill Hall pitched a scoreless inning for the Red Sox in their 12-5 loss to the Royals in Fenway and catcher Kevin Cash pitched the final inning for the Astros in their 15-6 loss to the Reds in Cincinnati, giving up one run.
In Minnesota we have to look all the way back to 1990 to see a position player (John Moses) take the mound. A total of four Twins position players have toed the pitching rubber for Minnesota and they have pitched in a total of 7 games. One of these pitching appearances was unusual in that Cesar Tovar started the game on the mound and played each position in sequence as the game progressed. Let's take a look at how these guys fared.
1. Julio Becquer (first baseman) – September 10, 1961 at Municipal Stadium in Kansas City in a 13-1 loss to the A's. Julio pitched 1.1 innings giving up 4 hits, 1 walk and 3 runs. Click here for the box score. Julio also pitched in a game as a Washington Senator in 1960.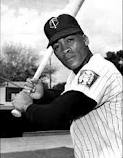 2. Cesar Tovar (infielder/outfielder) – September 22, 1968 at Met Stadium in a 2-1 victory over the Kansas City A's. Cesar started the game and pitched one scoreless inning giving up a walk and striking out future Hall of Famer Reggie Jackson in the process. Cesar went on to play C-1B-2B-SS-3B-LF-CF-RF. This was the only occurrence of a Twins position player pitching at Met Stadium. This is the only instance where a Twins position player pitched and the Twins won the game. Click here to see the box score.
3. Dan Gladden (outfielder) – June 27, 1988 at Anaheim Stadium in a 16-7 Twins defeat. Dan pitched a scoreless 8th inning facing just three batters and throwing 9 pitches. Click here to see the box score.
4. Dan Gladden (outfielder) – May 7, 1989 at Cleveland Stadium in a 12-1 loss to the Indians. Gladden pitched one inning giving up a walk, two hits and one run. Click here for the box score.
5. John Moses (outfielder) – June 24, 1989 at Fenway Park in an 11-2 loss to the Red Sox. John pitched one scoreless inning giving up a walk but only faced 3 batters with the team turned a double play behind him. Click here for the box score.
6. John Moses (outfielder) – May 19, 1990 at Fenway Park in a 13-1 loss to the Red Sox. John pitched one inning allowing two hits and one run. Click here for the box score.
7. John Moses (outfielder) – July 31, 1990 at the Metrodome in a 13-2 loss to the California Angels. John pitched one inning walking 2, giving up 3 hits and 2 runs. Click here for the box score. This was the only occurrence of a Twins position player pitching in the Metrodome. This pitching appearance makes Moses the all-time Minnesota Twins leader in games and innings pitched by a position player with a total of 3 innings in 3 games. Moses is also the only position player in Twins history to appear on the mound twice in the same season.
UPDATES:
8. Michael Cuddyer (outfielder) – July 25, 2011 at the Rangers Ballpark in Arlington with the Twins trailing the Texas Rangers 20-3 and having burned through five pitchers, Cuddyer was brought in to pitch the bottom of the 8th inning. Cuddy threw 16 pitches and retired the Rangers on 2 hits and a walk but kept Texas from scoring. Click here for the box score.
9. Drew Butera (catcher) – Trailing the Brewers 16-2 on May 20, 2012 catcher Drew Butera was asked to pitch for the Twins in the 8th inning. Butera kept the Brewers from scoring while throwing 17 pitches and only allowed one walk and in the process struck out former Twins outfielder Carlos Gomez. The Twins ended up losing the game 16-4. Butera is only the second Twins position player to pitch and strike out an opposing batter. Click here for the box score. Drew's father Sal Butera who was also a Twins catcher in 1980-1982 and again in 1987 also took the mound but not when he was with the Twins. Sal Butera pitched a scoreless inning for the Montreal Expos in 1985 and another scoreless inning for the Cincinnati Reds in 1986.
10. On August 5, 2013, the same day that MLB announced that 13 players were suspended for a total of 811 days for violating drug protocols, the Twins found themselves down 13-0 to the Royals at Kauffman in game one of a three game series. In the eighth inning Twins skipper Gardenhire decided to bring in utility infielder Jamey Carroll to pitch. Carroll threw just 9 pitches, seven for strikes and retired the side with no hits, walks, or runs. Carroll became only the seventh position player to pitch for the Twins but it was the 10th time this kind of a situation has occurred. John Moses pitched 3 times and Dan Gladden did it twice. Box score.
11. On August 8, 2015 Shane Robinson (outfielder) became the first Twins position player to pitch since Jamey Carroll did it on August 5, 2013 at Kansas City. Robinson came in with the bases loaded and faced four batters – he walked the first batter and retired the next three hitters the last out was a strikeout on Robinson's infamous knuckle all. Box Score.
12. On August 11, 2016 infielder Eduardo Escobar moved from shortstop to the mound at Target Field in the ninth inning with the Twins trailing the Houston Astros 15-6 and allowed just one hit but no runs as he retired the Astros on 16 pitches. Escobar was the sixth pitcher used by the Twins in the first game of a doubleheader. Box Score.
13. On a beautiful Sunday afternoon, April 23, 2017 The Twins were losing 13-4 to the Detroit Tigers in the top of the ninth inning at Target Field and Twins reliever Ryan Pressly just could not get the final out so manager Paul Molitor turned to catcher/utility man Chris Gimenez to finish it off. Gimenez took the mound and retired Andrew Romine on four pitches. Over the course of a nine-year career and before Sunday, the backup catcher had taken the hill three times. Catcher Chris Gimenez kept it 'slow, slow, and slower' in his fourth career pitching appearance. Some of Gimenez's pitches might have registered on Gameday as knuckleballs, but keeping the pitches simple was merely part of his strategy. "I just try to locate about 68 to 79 mph and go from there. Let them supply the power. … They were all heaters. Just slow and slower. That's my game. Box score
14. With the Twins being pounded 11-1 at Target Field on Saturday, May 6, 2017 Twins skipper Paul Molitor was once again forced to bring catcher Chris Gimenez to the mound with one out and runners at first and second. Gimenez retired Xander Bogaerts and Nick Benintendi for the final two out of the inning on just four pitches. Box score
15. The Astros showed no mercy and routed the Twins on May 31, 2017, 17–6, completing a three-game sweep in which they scored 40 runs (16, 7 and 17). That is a franchise record for runs scored in a regular-season series of any length. Twins C/1B Chris Gimenez was called upon (moving from 1B to the mound) for the third time this season to pitch and the season is just ending its second month. Gimenez pitched the ninth inning but gave up two runs on a two-run home run to Marwin Gonzalez. Box Score
16. Manager Paul Molitor calls on catcher/1B Chris Gimenez again as the Twins get thrashed at Safeco Field 12-3 and Gimenez delivers a scoreless inning. Box Score
17. Twins fans get to see their back-up catcher Chris Gimenez make his fifth pitching appearance of the 2017 season and fourth appearance in front of the home town crowd as Gimenex pitches 1 inning and gives up 2 runs on 3 hits in a Twins 14-3 loss to the Mariners. Box Score
18. Make that six pitching appearances in 2017 for C/1B Chris Gimenez. Gimenez pitched 1 inning allowing 2 hits but he kept the White Sox off the board which is relatively rare for Twins relievers this season. Box Score
Ten different Twins position players have now pitched on eighteen different occasions for the Minnesota Twins.
*****An article titled "The ERA of Position Players Pitching" was published on June 14, 2017, over on FanGraphs, check it out.
UPDATED June 23, 2017